September 16, 2020
In April 2020 the Arizona MOAA Chapter received a grant of $3750 from the MOAA Foundation that is designed for chapter member volunteer participation in a project involving four non-profit organizations. Due to the pandemic this project was split into three smaller projects to minimize numbers of participants per project.
On September 16th the last project took place at the Youth for Troops headquarters in Anthem, AZ. Approximately 25 participants from Youth for Troops, Project Veterans Pride-James Walton Home program, and members of the Arizona Chapter of MOAA took part in this project.
Groups worked to fill hygiene boxes (25) and food boxes (50) and made them ready for delivery to the post office to be sent to FPO and APO addresses of deployed troops.  Other groups worked on writing notes of appreciation to our troops, while additional groups worked to decorate boxes for future use. Participants also worked with cutting strips from plastic bags that will be further woven together as plastic mats to be utilized by homeless vets for many uses.
Youth for Troops volunteers made all preparations prior to the actual event and did an outstanding job. From the funds provided by the MOAA Foundation Grant, Youth for Troops purchased all materials, food, cleaning supplies, etc. that were then packaged and distributed by members of the Arizona Chapter of MOAA to end user organizations. Youth for Troops co-founder Heather Piatt said, "Thank you so much for allowing Youth for Troops to be part of your service events this year. We know that 2020 has been a challenge for many and it was wonderful to bring volunteers together to support four local charities. We appreciate that you trusted us to organize three events that impacted local veterans and deployed troops. We hope that our participation was helpful in fulfilling the goals set within your grant."
Our special thanks to Youth for Troops for helping make these events possible and successful.
Christeen Verchot, Lt.Col, USAFNC (ret) who is President of Project Veterans Pride, and Director of the James Walton Home, participated in this event. She commented that "MOAA has been very supportive of us and we are blessed to have their support. It is military helping military, and we have each other's back."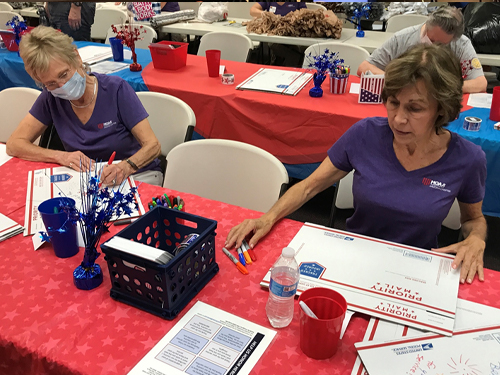 Susan & Ronnie decorating boxes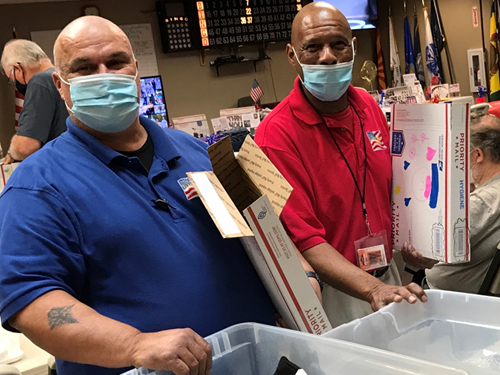 Daniel & Darwin from the James Walton Home filling boxes