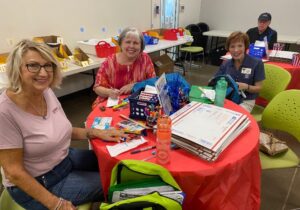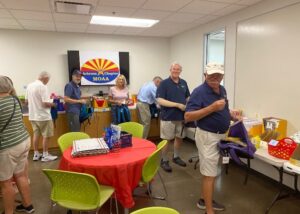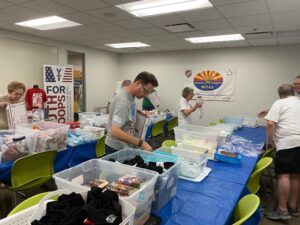 In April 2022 the Arizona MOAA Chapter received a grant of $5000 from the MOAA Foundation that was designed for chapter member volunteer participation in a project collaborating with three non-profit organizations. The overall goal was to:
"Benefit Arizona service members globally and Arizona veterans locally by packing and delivering items to support local veterans and deployed troops".
From this MOAA Foundation grant all materials were purchased for our event Freedom Isn't Free held on July 21st, 2022 at the Anthem Civic Building in Anthem, AZ.
Participating non-profit organizations included:
Youth for Troops
U.S. Vets – Phoenix
Veterans First LTD
 Twenty-one chapter members of the Arizona Chapter of MOAA participated in addition to volunteers from the three collaborating non-profit organizations.
All materials, food, cleaning supplies, etc. were packaged and distributed by chapter members to the end user organizations.
Our special thanks to Youth for Troops for helping make this event possible and successful. Youth for Troops volunteers purchased all materials and made all preparations prior to the actual event and did an outstanding job.
Additional thanks to Carl Ulbrich, Jireh Communications, Inc. for his video work of this event:
https://youtu.be/dfTm8FdMgB0
This was truly a collaborative event:
Christeen Verchot, Senior Program Manager, Veterans First LTD said, "This is phenomenal and so important working with MOAA. This allows the kids to be ready for school and we want to be able to support those veterans' families who have served for our country"
Tonya Piatt, President of Youth for Troops commented that her organization is proud to work with the other non-profits dedicated to veterans. The care package boxes that are filled today will be sent to deployed troops around the world.
Gerard Cox, Program Manager U.S. Vets Phoenix said, "This is going to be a huge help. The veterans need the things that are in the move-in baskets when they are moving into a new apartment. Some of them don't even have the bare essentials. The move-in kits will get the veterans off to a good start".
Tom Sheets, President of the Arizona Chapter MOAA said, "With these MOAA Foundation funds, we are very proud to be able to support deployed troops overseas, the children of veterans in the community in need, and also veterans transitioning from homelessness to a home"
 Final impact and summary of this project's success:
100 Care Packages (75 Food/25 Hygiene) – Youth for Troops mailed to deployed troops overseas.
25 Move-In baskets – U.S. Vets Phoenix given to veteran families.
42 Backpacks for Children of Veterans in Crisis – Veterans First, LTD