Colonel Basil A. Harkins, U. S. Army, retired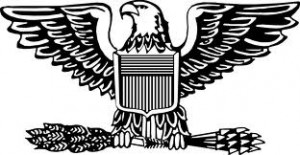 Colonel Basil A. "B.A." Harkins, United States Army, retired, was born on 27 November 1903 in Colorado.? In 1924 B.A. married Winifred Fae who would become his lifetime companion.
Prior to joining the Army, Colonel Harkins was a Passenger Agent for the Santa Fe Railroad in the early 1930s.  B.A. was working at Santa Fe's Los Angeles office in 1930.  In 1932 he was with Santa Fe Railroad in Fresno. In 1940, BA was in San Francisco working as a Commercial Agent for the National Carloading Corporation.

In 1944, Colonel Harkins was in the Army stationed in San Francisco.  In 1954 and 1955, then Lt. Colonel Harkins was the Deputy Zone Transportation Officer, 2nd Transportation Zone, Memphis, Tennessee.  His legal residence at this time was still in California.  Nothing else is known about Colonel Harkin's military service to our country.
Colonel Harkins moved to Arizona in 1961 after his retirement from the Army, settling in Scottsdale.  B.A. was our 16th Chapter President, serving in 1970.  B.A. was also a member of the Masonic Lodge.
Colonel Harkins passed away on 20 February 1991 in Scottsdale.  He was survived by his wife, Winifred Fae.  Fae passed away on 30 September 1992. Arrangements for both were conducted by Messinger Mortuary, 7001 E. Indian School Road, Scottsdale, Arizona.