1967 Lt. Commander Rocco Fred Iacobelli, U. S. Navy, retired

Commander Rocco "Fred" Iacobelli, was born on 28 Jan 1923 in Lebanon, Indiana.  He was the son of Rocco Iacobelli and Esther Keener.  After graduating from Lebanon High School, Fred attended Franklin College in Franklin, Indiana.  He subsequently received an appointment to the Naval Academy, graduating in 1945 with the Class of 1946.  During this war-time period, midshipmen were graduated in 3 years, not four.  It reverted back to 4 years in 1948.
Commander Iacobelli continued his academic pursuits throughout his life, earning three master degrees; in aeronautical engineering from Princeton University, in finance from George Washington University, and in business administration from Arizona State University.
While a Midshipman, Fred was the manager of the fencing team.  During his 20 year career with the Navy, Commander Iacobelli served initially aboard destroyers.  Upon commissioning in June, 1945, Fred served as Ensign aboard the Destroyer USS Eaton (DD-510). On 29 Oct 1946, he was assigned to the USS Hobson (DD-464/DMS-26). Later, Fred served as a lighter-than-air Blimp  pilot, and also flew seaplanes.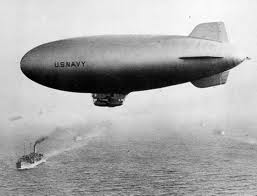 Upon retiring from the Navy in 1965, Commander Iacobelli settled in Phoenix, Arizona.  Fred worked for Air Research and later the Arizona Department of Health Services (AZ-DHS), where he was responsible for implementing Arizona's Vehicle Emissions Program.  He retired from in the AZ-DHS in 1984.
Commander Iacobelli was an active member of the Arizona Chapter of the Military Officers Association of America, and served as our 13th president during 1967.
In addition, Commander Iacobelli was a member of the U. S. Naval Academy Alumni Association, the Naval Aviation Museum Foundation, the Naval Airship Association and the Lighter-Than-Air Association.  Fred was also a 25 year member of the Phoenix Camelback Rotary and held various positions with the Christ Church of the Ascension.
Commander Iacobelli passed away on 2 November 2011, and is buried at the United States Naval Academy.  Fred is survived by his wife of 63 years, the former Doris Schmoele; sister Alice Gochenour of Houston, TX; daughter Lynd (Dave) Clary of Yorktown, VA; sons Dirck (Peggy) Iacobelli and Bruce (Julie) Iacobelli of Scottsdale.