2016 Colonel Dave Fleming, USAF (Ret)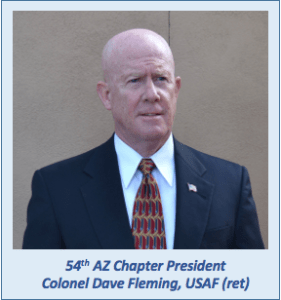 Colonel David L Fleming was born in 1952 in Cambridge, England. He earned a Bachelor of Science degree in International Affairs from the United States Air Force Academy in 1975 and a Master of Science degree in Public Administration from Troy State University in 1988. He is a graduate of Squadron Officer's School, Air Command & Staff College, and the Air War College.
Following graduation from the Academy, Colonel Fleming served as a Weapon Systems Officer in the RF-4C aircraft in both the US and Pacific before receiving his pilot wings in 1979. After pilot training, he flew the F-111D and F-111E aircraft in the US and European theaters of operation.
Following an Air Staff tour in the Tactical Division of the Directorate of Current Operations and a command tour flying the T-37B aircraft at the Euro-NATO Joint Jet Pilot Training Program (ENJJPT) in Texas, he was reassigned to the Pentagon as the NATO Liaison Officer to the Chairman of the Joint Chiefs of Staff. In 1999, Colonel Fleming was then assigned to the US Military Delegation at NATO Headquarters in Brussels, Belgium. In this capacity, he was one of four senior service officers responsible for policy and operational matters requiring close inter agency coordination in Washington for the NATO Alliance.
In 2002, Colonel Fleming became the Director of Operations for the US Air Force ROTC program. In this capacity he was responsible for the development and execution of all training and education programs for 144 AFROTC detachments across the United States.
He is a Command Pilot with almost 3000 hours of flying time. His decorations include the Defense Superior Service Medal, Legion of Merit, Defense Meritorious Service Medal, Meritorious Service Medal with 3 oak leaf clusters, Air Force Commendation Medal and the Navy Meritorious Unit Commendation.
Colonel Fleming retired in 2004 after more than 30 years of active duty military service. He then started a second career in the oil and gas industry with FMC Technologies in Houston, Texas as the Project Services Manager and Operations Manager for subsea oil production and exploration in the Gulf of Mexico.
Colonel Fleming is married to the former Wanda Angus of Blue Springs, Missouri. They have two daughters; Beth and Katie. They also have two grandsons and three granddaughters.
A MOAA Life Member since 1989, Colonel Fleming joined our Chapter in 2012 and was elected to our Board of Directors that Fall.? Dave was elected as our 54th Chapter President and serves in that capacity today. He also serves as our Membership Chair and served as First VP prior to his election as Chapter President. Dave is a Life Member of both the Air Force Association (AFA) and the Order of Daedalians, a fraternal and professional order of American military pilots.