2013 COL Robert E. Welch, US Army retired
52nd Chapter President
Colonel "Rob" Welch, United States Army, retired, was born in 1941 in Konawa, Oklahoma. He is the son of David Melvern Welch and the former S. Kathryn Engle. Rob entered the Army in 1959 as a private, beginning a 33 year military career that would span 5 decades. After serving 3 years active duty, he left the service to attend college, graduating with a BS in Criminal Justice Administration. Following a 9 year break in service, Colonel Welch received a direct commission to First Lieutenant, serving first with the active Army Reserve and then the Connecticut Army National Guard in addition to continuing his civilian career as a Connecticut State Trooper.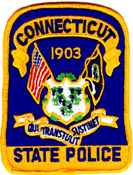 Retiring from the State Police in 1996 as a Captain, Colonel Welch continued his military service with numerous short tours of active duty. In addition to his regular duty assignments, Rob was tasked with conducting special sensitive investigations for the military and served on various National boards for the Army until his retirement on 31 December 2001. Upon his retirement he was promoted to Brigadier General in the Connecticut Army National Guard, a non-Federal appointment, for his exceptional dedication and outstanding service to the State of Connecticut.
Colonel Welch is a graduate of the Command & General Staff College at Fort Leavenworth, Kansas and the Inspector General?s Course at Fort Belvoir, Virginia. Though his assigned branch specialty was Military Police, Rob was also branch qualified in Infantry, Military Intelligence, Quartermaster, and Civil Affairs. Significant military assignments include two company commands, battalion command, brigade command and a tour as an Inspector General. Rob's military awards and decorations include the Legion of Merit, the Meritorious Service Medal with Oak Leaf Cluster, the Army Commendation Medal with 2 Oak Leaf Clusters, and the Army Achievement Medal with Oak Leaf Cluster in addition to numerous service awards and ribbons.

Rob's volunteer service to his community includes being a founding member of the Mystic (Connecticut) Irish Parade Foundation where he served as the St. Patrick's Day Parade Director, organizing and executing Mystic's first three parades. He was a member of the Connecticut State Police Emerald Society, and was named their Irishman of the Year in 2005. Rob also helped organize the Connecticut State Police Pipes and Drums in 1994 and was the assistant musical director of the Mystic Highland Pipe Band before relocating to Arizona.

Upon moving to Arizona in December 2005, Colonel Welch's volunteer work continued. Rob joined the Phoenix Pipe band in 2006, a non-profit charitable organization and served as it's president from 2007 to 2014 when he retired from bag piping. He was a volunteer member of the Mesa Fire Department Pipes and Drums from 2006 until 2013, served as the Arizona Law Enforcement Emerald Society Bagpipe Coordinator until 2012, and assisted in ceremonial bagpiping for the Arizona Department of Public Safety from 2007 until 2014. Rob has spent countless volunteer hours playing the bagpipes pro bono at funerals of military veterans, police officers and firefighters.
Colonel Welch is a life member of MOAA, joining our Chapter in 2007 and was elected to our Board of Directors that Fall. Rob was elected as our 52nd Chapter President, serving for the 2013 term. He also serves as our Scholarship Chair and Webmaster, and served as our First VP prior to his election as Chapter President. In February 2016, Rob received the MOAA National Leadership Award from MOAA President & CEO, Lt General Dana T. Atkins, USAF (Ret).
Colonel Welch is also a life member of the Association of the United States Army (AUSA) and serves on the Arizona Territorial Chapter's Executive Committee as a Vice President since 2009. In addition, Rob is a life member of the Military Order of World Wars (MOWW), a member of the American Legion and has been a member of the One Hundred Club of Arizona since 2007, a non-profit charity which financially assists the families of slain or injured Arizona police officers and firefighters. In November 2013, Rob was elected as the Chairman of the Unified Arizona Veterans (UAV), a consortium of 50 Veteran Service Organizations representing our state's half million + veterans. He was reelected in December 2014 for a second one year term.
Colonel Welch is married to the former Veronica "Ronnie" Horay. They reside in Scottsdale, Arizona. Coming from a family who has served our great Nation in the U. S. Army during every major war from our Revolutionary War to present, his immediate family continues this patriotic tradition. His brother Laurence served as an Army First Sergeant, his brother David retired as an Army Major with 20 years of service, his daughter Annamarie retired as a Navy CPO with 22 years of service, and his stepson Mark served our Nation as a Marine.