1972-73 CDR Richard T. Fahy, U. S. Navy, retired
Commander Richard Thomas "Dick" Fahy, United States Navy, retired, was born in Philadelphia, Pennsylvania on 17 Mar 1917.  Dick was the son of WW-I Navy Veteran Lieutenant Thomas Francis Fahy and Ann Margaret Munz.
Commander Fahy graduated from the U. S. Naval Academy at Annapolis, Class of 1939.
Although we were unable to obtain Commander Fahy's full list of assignments, we were able to find out a little about his naval career.  Some of Commander Fahy's military assignments, movements and locations include:
On 28 Dec 1940, Commander was aboard the S. S. Cristobal enroute from Panama Canal Zone to the New London Submarine Base.
From 16 July 1943 until 5 March 1944, onboard the submarine USS Apogon (SS-308) on patrol in the Pacific Theater, including a patrols in the waters off Japan.  Commander Fahy was awarded both the Silver Star and the Bronze Star during his tour on the Apogon.
On 13 March 1944 Commander Fahy was assigned as the Commander, USS Plunger (SS-179) in the Pacific Theater.
On 10 October 1944 he was assigned to the staff of the Commander, Submarine Training, Pacific.
On 4 Apr 1954, he was aboard the USS Point Cruz (CVE-119, an Escort Carrier) Staff, Carrier Division 17, operating out of the Far East.  His brother, Tom Fahy, Underwater Ordnance Department, U. S, Naval Ordnance Test Station, China Lake, California, and Dick spent a week together aboard the USS Point Cruz.
From 6 Jul 1949 to 21 June 1951 Commander Fahy was the Commanding Officer of the USS Charr (SS-328) based out of San Diego, California.  In June 1950 Charr was deployed to the San Francisco area.  At the outbreak of the Korean hostilities, Charr was deployed to Pearl Harbor.  Charr returned to San Diego in August 1950.  On the 23rd of August, Charr received the Marjorie Sterrett Battleship Fund Prize, the first submarine in Naval history to receive this award.  The Charr also received the Battle Efficiency Pennant for the competition year 1950 for the second consecutive year.  During January and February 1951, Charr operated in the Puget Sound area conducting operations with Fleet Air Wing Four, Whidbey Island, Washington, returning to its San Diego base afterwards.
22 Jan 1956.  Commander Fahy flew from Hickam Air Force Base, Honolulu, Hawaii, to Tokyo International Airport, Tokyo, Japan.
20 May 1956.  Commander Fahy flew from the Midway Islands to Hickam Air Force Base, Honolulu, Hawaii.
Commander Fahy's awards and decoration include: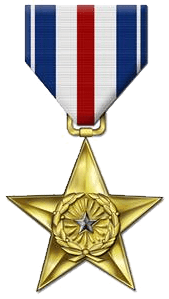 Silver Star (World War II)
Bronze Star (World War II)
World War II Victory Medal
National Defense Medal
Korean Service Medal
Navy Unit Commendation (USS Plunger)
Commander Fahy served as our 18th Chapter President in 1972-1973.
Commander Fahy passed away on 14 Mar 1989 in Phoenix and is interned alongside his first wife, Julia Alice Howell, at Section S, Site 219, Fort Rosecrans National Cemetery, San Diego, California.  Also buried in this cemetery are his mother and father.