1964 Colonel Elmer F. Arnbrecht, U. S. Army retired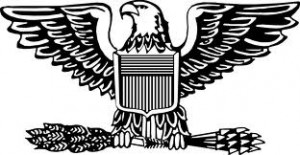 Colonel Elmer F. Arnbrecht, United States Army, retired, was born on 29 Jan 1902 in Okeene, Oklahoma, the son of Jacob Arnbrecht and Theresa (Rosa) Irion.  Elmer joined the military in the 1920s, and was a veteran of both World War II and the Korean War.
Some of Colonel Arnbrecht's assignments included:
1922   Colorado State Ranger, which at that time was under the command of the Colorado National Guard.  He was among the rangers who, on the 24th of August, arrested Lou Blonger and his gang of confidence men who were swindling tourists in Denver.  The subsequent trials led to the longest and the most expensive in Colorado history at that time.
1929  First Lieutenant, Calvary, Reserve, was at Fort D. A. Russell, near Cheyenne, Wyoming for a pistol match pitting reserve officers against the officers of the First Infantry Division.
1930   Purchasing agent for the Colorado Army National Guard.
1935 – 1940   Instructor, Colorado Military School

1 Jan 1945  then Lt. Colonel Arnbrecht was Battalion Commander of the 882nd Field Artillery Battalion, 70th Infantry Division when it was alerted for overseas duty and shipped to France.  The 882nd fought both in France and Germany until the war ended.
Colonel Ambrecht?s awards and decorations include:
Bronze Star (World War II)
WW-II Victory Medal
WW-II Army Occupation Medal
Campaign Star – Rhineland 15 Sep 44 to 21 Mar 45
Campaign Star – Central Europe 22 Mar to 22 May 45
National Defense Service Medal
Korean Service Medal
Colonel Arnbrecht was our 10th Chapter President, serving in 1964.
Colonel Arnbrecht passed away on 11 Jun 1997.  He was survived by his wife, Anna Ruth Jefferson Arnbrecht.  After a memorial service at Fort Huachuca, Sierra Vista, Arizona, he was interned in the post cemetery, Section 7, Site 47b.